The Fog of MemoirThe feud over the truthfulness of Ishmael Beah's A Long Way Gone.
Posted Thursday, March 6, 2008, at 2:20 PM ET (The Slate)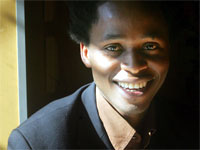 On Jan. 19, the
Australian,
Rupert Murdoch's Aussie broadsheet, published a 4,600-word investigation challenging the credibility of the child-soldier memoir
A Long Way Gone
. Author Ishmael Beah's heart-wrenching account of Sierra Leone's civil war and the two years he spent as a cocaine-addicted teenage killer achieved instant literary acclaim after its publication last winter and was selected as the inaugural title in Starbucks' reading club. Into its 35
th
printing,
A Long Way Gone
has sold more than 600,000 copies worldwide. Beah, 27, now travels the world as a UNICEF ambassador raising awareness for the plight of child soldiers.
To Read the whole article:
http://www.slate.com/id/2185928/pagenum/all/#p2
This raises some interesting points, but really, with all the horrors and blood that has spilt in Africa and Sierra Leone is this the best discussion we can have? No matter the truth of Ishmael's story or not - which I as well wondered how he could remember it all so clearly - the fact of the matter is that his story is real somewhere and to someone. What he describes in his book has happened, and we need to be doing something about that, not about if one story has 100% accuracy. Whether the boy was a child soldier for two years or two months - does it matter? It must have been horrible. Let us focus on that.